So I know several saw this when I posted on Facebook last Saturday, but I thought I'd give a little more explanation. I was long overdue for a haircut. Since I'm not follicly well endowed, my typical haircut consists of whipping out the clippers, sticking on the #1 guard, and letting Sheila buzz it all off. This has been my look for several years. It's quick, easy, and best of all, cost effective! When Sheila got out the clippers Saturday, I told her what I had been contemplating for a couple of weeks. But I prefaced with, "Don't laugh, but I want you to do something different."
With a sideways and slightly suspicious look she asked, "What?"
"I want you to take it all off…you know 'Bic it' for my sister."
At the beginning of this month, my sister, Laurel, was diagnosed with leukemia. Our family was in shock! Laurel has been the healthiest of all three of us siblings. The thought of her having cancer was unbelievable. Yet, it explained why she had been getting sick and feeling so lousy most of the summer. Her diagnosis was confirmed right after she and her husband, Jack, returned from a trip to celebrate their 10th anniversary.
She began treatment immediately. And if there is any good news in all of this, it's that she has a very treatable form of leukemia, with a high cure rate. The downside is that she is in for a long-haul of treatment. Just two weeks into her treatment, she predictably began losing her hair, so a couple of days later, she had it all taken off. I know this was hard for her. My brother, the one with the brightest sense of humor has been a huge help through this. He's kept his head shaved for several years now, and rumor has it that he encouraged by modeling scarfs for her. Allegedly there are pictures, but I have been told I won't see them except for blackmail purposes.
I wanted to find a way to show my love and support from 650 miles away (though not very creative or sacrificial considering my preexisting "Saunders High Forehead"), here is my new look for a while…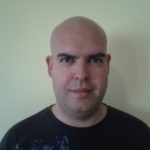 The next thing we are praying for is that either Bart (my brother) or I will be a stem cell match for her.  I know we'd both accept the honor of giving part of our body to give her new life. If you are the praying type, we'd sure appreciate your prayers on this one.
Please visit Laurel's CaringBridge site that she updates regularly: http://www.caringbridge.org/visit/laurelversusleukemia