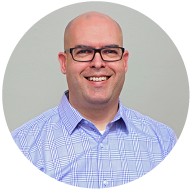 Matt Saunders is the Camp Director at Youthfront Camp West. Prior to working at Youthfront, Matt was a youth ministry leader for 15 years, serving local churches in Olathe (Kansas), Calgary (Alberta, Canada), and Caldwell (Idaho). Matt grew up in northern Colorado and graduated from Northwest Nazarene University (Nampa, ID) with a degree in youth ministry. He received a Master's Degree in Liberal Arts with a history concentration from Baker University.
Matt began dabbling in board game design in 2004. His first game, self-published in 2008, was called "Mow 'Em Down." Two years later, Matt streamlined the experience and created a card game version called, "Mow Money." The game was a top-four finalist in the 2011 Protospiel design contest and was later signed by Mayday Games  and published in 2016. Matt continues to flesh out new game design ideas that feature unique mechanics and interesting player interactions.
Since 2015, Matt has been an Advisory Board Member to MidAmerica Nazarene University's Center for Games and Learning. He is available to consult with schools and libraries about topics such as Using Games in the Classroom or Library, Student-Designed Games as a Methodology, and Creating Escape Games and Puzzle Hunts. Contact Matt Here.
Matt is married to Sheila and they have two kids, Kyron and Raylee. The Saunders family lives in Gardner, Kansas.