Lunch with Board Game Students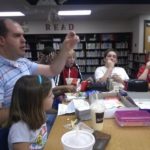 Yesterday I met up with my board game club students for a reunion lunch. Our club meets during the winter months of the school year. I hadn't seen these guys for a couple of months, and since school is winding down, the counselor arranged for me to come by for lunch. Some of the students were supposed to bring games that they had been working on for me to see. Only one of the girls brought hers. I also brought a prototype of Mow Money for them to see.
I briefly explained the game, but I used most of the time showing them how to make an inexpensive card game prototype by purchasing a few supplies (card sleeves, generic playing cards, and paper) from the store. I challenged them to make a card game this summer. A great activity to beat the summer doldrums when swimming and other summer time activities get boring.
I'm uncertain about continuing the club this next winter. With my new position at Youthfront, I am not sure if I will have the time to volunteer like I've been able to do the past three years.
Thanks to my friend, Ed, who thought to capture this picture while I was talking about card sleeves.