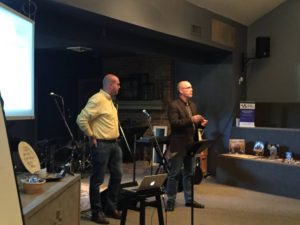 A week ago, I had the privilege of co-presenting with Dr. Mark Hayse at Youthfront's first Youth Worker Training event of the 2015-2016 season. In our three-part presentation, we talked to youth workers from all over Kansas City about Brian Sutton-Smith's theories of play and added our own thoughts about how a theology of play could contribute another beneficial voice to the other theories. We outlined how a theology of play relates to the theological idea of perichoresis. Perichoresis is a description of how the three persons of the triune God relate to each other. To be created in the image of God, as described in Genesis 1:27 is about being created in and for this type of relationship.
From there we illustrated how games, recreation, and playful activities inside the context of youth ministries help us realize the relationships and freedom innate to play. Digital culture gets us close, but while it often provides us ways to connect like never before, it also separates us like never before. Mark shared about his work to launch the Center for Games and Learning at MidAmerica Nazarene University. And then I shared about how I used games and play inside of church youth ministry and camp.
We landed by sharing several resources for youth workers to help them implement games and other playful activities inside their ministries and organizations.
The sessions were video taped. As soon as they post, I will provide a link here.