Starting a Board Game Club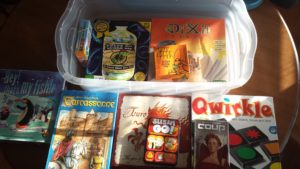 Several years ago I ran a club at an elementary school near my work. I sort of ran it as a community outreach event. When I switched jobs, I stopped leading the club since I wasn't going to be near the school any longer. I have been waiting for my own kids to be old enough to start a club at one of their schools.
My oldest son began Middle School this fall. Back in the spring, while we were at an orientation event, the principal talked about a chess club that had been running for two years. After the orientation meeting, I sought out the principal, introduced myself and asked him if he had any interest in having a board game club at the school. He was interested and told me that he would be in contact with me in the future.
My wife works at the school and the teacher she works with also has an interest in board games, so I had an immediate connection with a faculty member who could help sponsor the club. Three weeks ago, I met with the principal to lay out plans for our club. The school has a built in afterschool period two days a week. Students may elect to stay on these days to receive a little extra help on their homework or musical instruments. For the past two years, this has also been the time frame for when the chess club met once a month on the first Tuesday of the month. It's only 40 minutes long. The principal felt it was best to schedule the board game club at the same time as the chess club.
The principal is thrilled about the board game club starting. And I'm excited too, but as I was leaving, I realized I have a few challenges to overcome. The first is the short time frame. Only 40 minutes. Since the club participants can take the academic bus home, there is less of a transportation burden on families, and therefore more inclusive to potential participants. The second challenge is that the club only meets once a month. The frequency is not quite as high as I expected because all of the teachers who stay after school for the club are volunteers. The principal feels he would need to compensate teachers time if there was a higher frequency. Makes sense. The final challenge is the potential size of the group. Two years ago, the chess club began with just 20 5th graders. Last year, the club included 5th and 6th graders and had 40 students participate. This year, the chess and board game clubs combined will have over 60 participants.
To overcome these challenges, I figure I need to plan on using games that have three characteristics: a) they need to be easy to learn, b) they need to play quickly, and c) they need to utilize a high player count. I've pulled 10 games from my shelf that meet these criteria. Some of the titles are Dixit, Tsuro, For Sale, Qwirkle, and SushiGo. I also reached out to a bunch of my friends and coworkers who also love board games to help volunteer with me. So far, one of my coworkers is joining us. There are also two teachers helping to sponsor the club.
Next month, I'll give a report on how things went. What were the successes, and did I bite off more than I could chew?